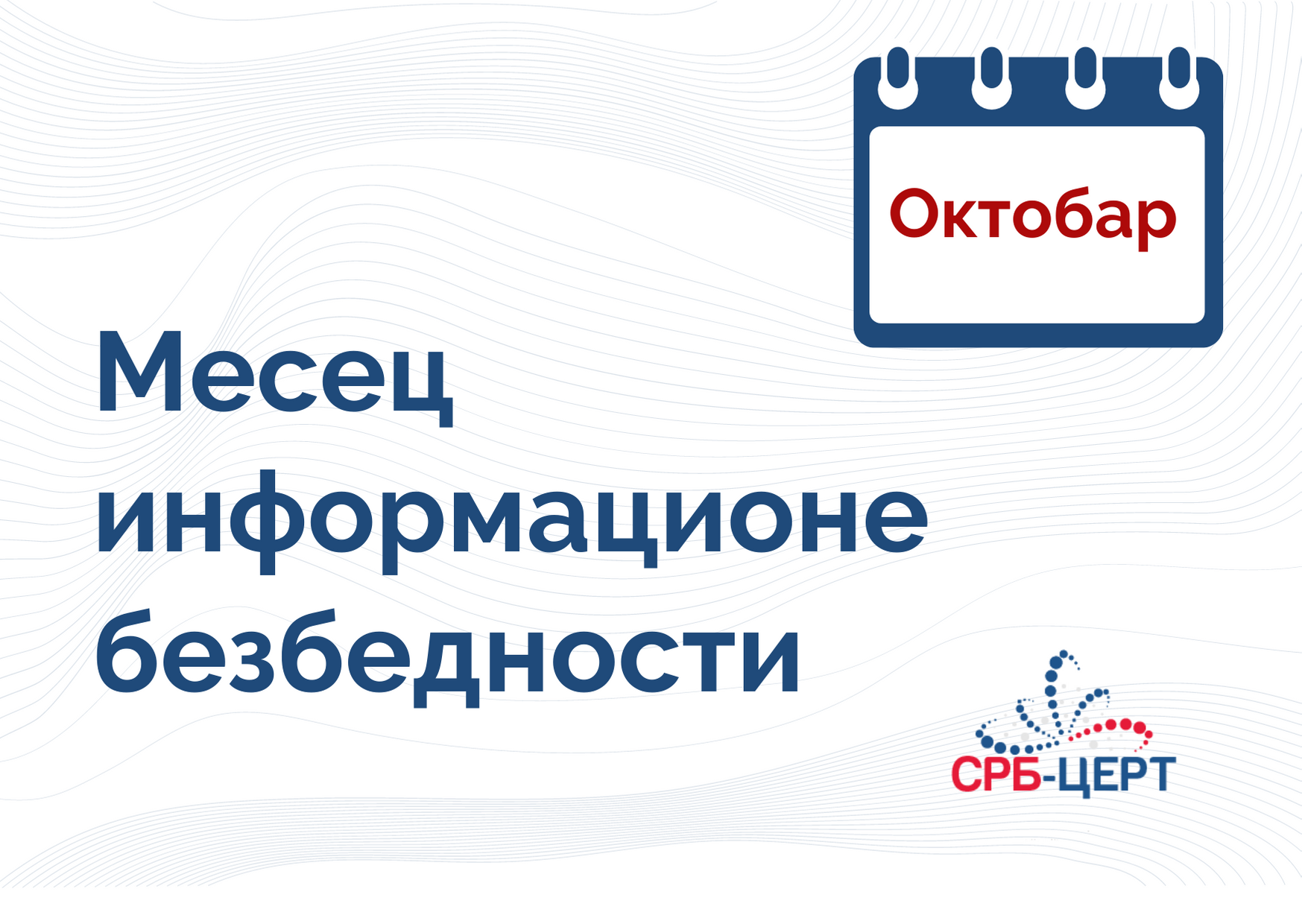 The Regulatory Agency for Electronic Communications and Postal Services, in its capacity of the National CERT of the Republic of Serbia, will mark this year's international Cybersecurity Month with a campaign entitled "Knowledge is power".
The cybersecurity month is celebrated throughout the world, while in Europe it was first observed in 2012, with the slogan "Cybersecurity is a common responsibility", uniting the European countries in their combat against cyber threats. Ever since, this capmaign has yearly promoted not only a safer and more responsible online behaviour, but also introduced trainings and seminars aimed at educating end-users, preparing them for ever-emerging challenges. In 2019, the year when the Republic of Serbia joined in, 525 activities were recorded in 36 countries.
This year's campaign "Knowledge is power" kicks off with a workshop for the media representatives, with presentations on current cyber news, events and advices on how to prevent the most frequent cyber attacks and threats.
A webinar for the small and medium-sized enterprises will provide information about legal regulations in the area of cyber security, current free tools and recommendations for a safe work and reduced business risk. The webinar is set to take place on October 15, 2020, whereas all interested parties can apply by email (office@cert.rs).
In order to raise awareness on the issue of cybersecurity, the National CERT regularly updates its website with news, notifications, recommendations, publications and brochures on best prevention measures and practices against security risks, including information about current cyber threats to citizens, companies and governmental bodies. Since the beginning of the COVID-19 pandemic, the National CERT's recommendations have been focused on how to safely work from home and maintain cybersecurity, with the following brochures being published: Safety recommendations for remote workers, VPN access for small and medium-sized enterprises, Abuse of COVID-19 pandemic in cyberspace, Social engineering, How to reduce the risk of receiving phishing emails (SPF, DMARC, DKIM), Compromised business emails – all of which can be found in the Publications segment of the website. In addition, a promotional video has been created, to be available soon on the same platform.
The National CERT invites you to follow the prepared content featuring as part of the "Knowledge is power" campaign, as well as on social media.